Lighting of Tomorrow is a full-service electrician company for the South Florida Area. We specialize in all commercial, industrial, HOA & Condo services and are guaranteed to leave you satisfied with our electrical work.
Our team consists of certified electricians who know the ins and outs of superior service and unbeatable customer care. We also specialize on renewable and energy-efficient product and services that facilitates the switch from outdated, inefficient lighting to state-of-the-art LED technology. We offer lighting design, inspections, installation, & maintenance.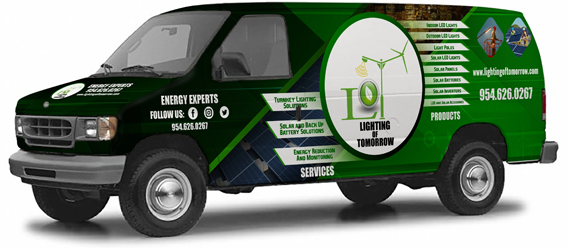 Electrical Areas Of Expertise
Electric vehicle charging stations
Turnkey Lighting Installations
Lighting and Energy Audits
New Lighting Installations
Surge Protection Systems
New Construction
New electrical installations
Transformer Maintenance & Repair
Existing electrical repairs.
Installation of UPS/Generator Systems
Bulbs and ballast replacements
PLC Installations
Fuse replacements
Preventive Maintenance on Switchgear
Surge protector installations
Panel upgrades
Flat Rate Service Fees
Expert troubleshooting
24 Hour Emergency Service
Commercial electric
New Commercial, and Industrial wiring
Solar energy panel installations
Rewiring and Remodeling
Generator backup systems
Electric Circuit Testing
Design and permits.
Indoor & Outdoor Accent & Security Lighting
Energy Analysis Audit
Control Wiring
Contact Us Today
Our services include:
Consult
Design
Install
Maintain
Lighting of Tomorrow's main goal is to achieve significant energy-use reductions through the installation of energy-efficient smart LED lighting systems. We aim to illuminate our world one light fixture at a time. Our efficient and affordable smart lighting solutions allow our clients to benefit from energy reduction and cost. All products and fixtures used by L.o.T. are accredited, certified, and guaranteed for commercial & industrial use.
We believe that saving energy is simply the right thing to do. For every customer we help, we can reduce overall CO2 emissions, directly impacting our environment.
Lighting of Tomorrow has proudly saved over 5 million of KwH since 2015 and we are excited to save more. We care about what we do. We provide quality products with a quality team, so you can get your lighting projects worry free, from start to finish.
Contact Information
840 E Oakland Park Blvd 117 Oakland Park, FL 33334
954.626.0267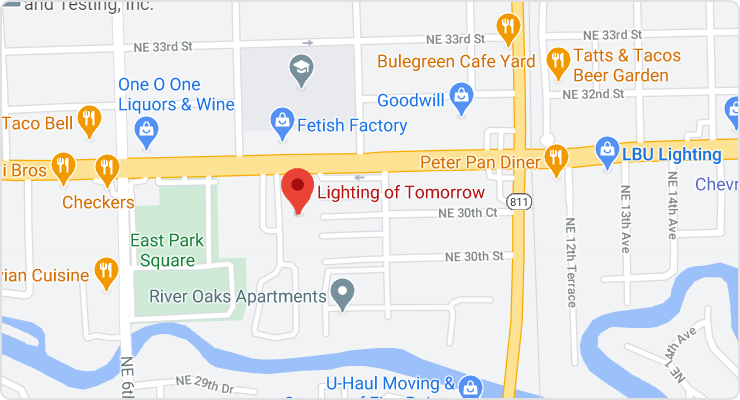 Customer Reviews